How would you use a digital marketing strategy with a tight budget? You just started and need marketing strategies to help your thrifty budget. My friends, my viewers, my readers, if you have started a small business and you are confused about whether you should spend the bulk of your cash on various strategies or work strategically on your workflows, you have come to the right place. I will tell you how to run your small business strategy and grow your sales.
Here are the top marketing strategies for small businesses that you must know:
Facebook
The well-known social app of the century. Whether you are a millennial or belong to Gen Z you have heard of it and also used it. Facebook has been considered one of the powerful online platforms that can boost businesses of any type; gives extraordinary online marketing experience. Below are the stats of all the social platforms from the survey of 2017; how online marketing has been revolutionized since the last decade.
Did you know that two million small to medium-sized businesses advertise using Facebook? It is an inexpensive and effective way to market your product to your audience. In addition, it is very easy to display an ad on Facebook. It also targets the specific audience that you want it to. You can target your audience based on their location, age, gender, and online patterns. Moreover, multiple businesses worldwide do not afford the budget of marketing and hence end up outsourcing digital marketing services from a notable digital marketing agency for small businesses.
Google My Business
To get your business up and running, you absolutely need to rank your business in the top 3 listings of Google My Business. It is one of the most powerful things you can do for your business to grow and a good addition to your digital marketing strategy. In fact, if you are running a local shop, you absolutely need this to boost up your business.
GMB gives your business credibility and visibility, again, if you are running a local business this should be your #1 priority, even above a Facebook ad, and the best of all, it's not even that hard all you need to do is optimize your profile and collect reviews for your place. 
Google AdWords
With the clocks running out of time, you need to snap back to reality and realize that you need as many as you can get pair of eyes on your business. There are more than 40,000 search queries on Google every second. Google AdWords is like the Eminem of online marketing channels. It's been around for such a long time but is still the most competitive platform on the internet.
Yes, it is expensive, but if you play your cards right, you are guaranteed great results. Even if it is paid, its goal is to provide you with relevant search results that with proper SEO you might even, will become less expensive. Being a paid channel, it does provide you a scale to keep you in line with your budget as well.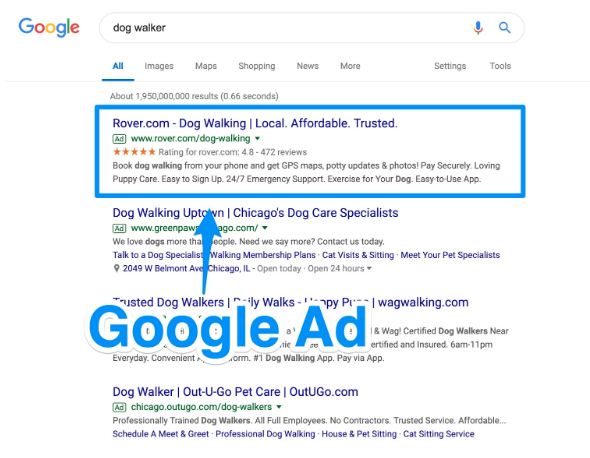 Content Marketing
Content marketing is still just like the old days, instead of newspapers you write on the web. About 18% of marketers say that content marketing has the greatest commercial impact on their business of any channel in 2016. Unlike advertising, content marketing focuses more on long-term results.
It is a wide platform, instead of only writing blogs, you can also do podcasts, videos, and many other ways in which people can consume information. Real market leaders understand the concept of marketing and retain on top. You can get more benefits from the top digital marketing strategies that would change the way you think.
Organic Social Media
Surveys have shown that 67% of the consumers use social media for customer support and 33% like to use social media instead of a telephone. Here the question is that whether you should invest heavily in social media or not, for example, Kylie Jenner uses social media and herself as a model to keep her sales as an entrepreneur high. It depends on you how you want to invest on Instagram or whether you even want to or not. The key is to know your audience well. 
Search Engine Optimization
The technical elements of SEO are that it helps increase page speed, backlinks, and other building elements that are so important to the success of your business online. Changing the rules administered by search engines forces you need to keep your site in tip-top shape and make preserving its health significant. SEO is a bigger part of your digital marketing strategy that boosts organic sales.
The benefit for your business is that it won't just help you rank better, it will also make it easier for customers to trust you based on the performance of your website. Having fast pages, security measures, and automatic customer service portals are just a few ways to do this.
Even with a good budget, you get tons of options to invest strategically and garner opportunities for you to build a solid marketing plan. By using some of the strategies above you can effectively and creatively reinvest in marketing and speed up your business growth.
Do a survey on your audience and use those answers to set up your small business marketing agency. Run small tests and note what fails and what brings in success. If you follow the above-mentioned measures it will help any small business marketing agency to grow its business. The more you put the effort into your content the more people will remember it.