SEO
How to Boost Website Ranking with Drupal 8 & 9 SEO Modules?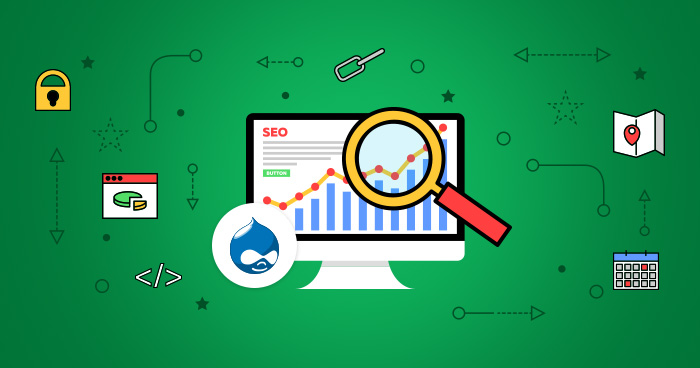 Search Engine Optimization (SEO) is an essential strategy in ensuring the website top ranking on Google. SEO guide websites to engage traffic from organic, & natural search engine results.
Multiple factors are behind the ranking of the website, including quality of content, loading time, backlinks, as well as responsive functionality.
Further, Drupal is a robust and highly customized website CMS known for its SEO friendly features. Its innovative architecture guides developers to implement result-oriented SEO practices in their workflows.
It will including correct tagging of content, SEO-friendly naming conventions and Meta tags, to make website both search-engine and user-friendly.
Hence, with relevant content, properly navigated website and theme, and installation of Drupal SEO modules can benefit business organizations to make a smooth success story.
Different Drupal Modules to Improve Website Ranking
Pathauto
Pathauto is a highly recommended Drupal module that most developers integrate in a website. When SEO is relevant, having appropriate URLs to a website's pages is important for content to rank high.
Instead, the module by default creates URLs depending on particular set patterns that can be later customized as needed. The URLs generated are short and planned as per the user requirements. As such, the module is a highly simple approach that can do great for your SEO efforts.
Redirect
Many times situation arises when content of the website is customized, which ultimately means changing the URL context. That URL is already at top position of search engines and when a user click on the ranked URL, they would reach the web page that is no longer present.
This annoying situation cause the user to leave your website and move to another desired information, resulting in loss of sales & overall revenue. With the presence of Redirect module, you can simply redirect the users to the new URL. This contributes towards your SEO efforts by removing dead links from the website.
SEO Checklist
If you have knowledge of the SEO basics and skills to manage multiple websites simultaneously, then this module is designed for your needs. With SEO Checklist module, Drupal 8 Developer can keep their SEO practices updated.
The module eliminates guesswork by designing a to-do list of modules and pending tasks. The timely updates of module improves on-page SEO without any hassle.
It makes work easier by breaking down the tasks into functional requirements including Title Tags, Content, Paths, and many more. Next to each task is a link to download the module with a link to the admin screen of your website for streamlined optimization.
Google Analytics
Google Analytics is a strong & robust tool for all aspects of a website. It helps to monitor traffic and keep tabs on thorough analysis of your website.
Whenever you carry out SEO-related tasks to a website, it is quite interesting to explore the results it yields. With the use of Google Analytics module for Drupal. It is simple to integrate your Drupal site with Google Analytics and identify the results your practices bring about.
Real-time SEO
The real-time SEO module for Drupal 9 Development Services relieves you from the complex job of optimizing content in a fast & natural manner. It works perfectly in combination with the Metatag module.
What are Meta Tags? Meta tags provide information about the webpage in the HTML of the document.
This verification work ensure that you don't miss out on any opportunity to boost organic traffic and hence reach top of the ranking.
SEO Compliance Checker
Whenever a publisher saves or previews a node, the module carry out audits and gives the user genuine feedback on the compliance of the rules in the form of a result table.
This is a great help to SEO beginners as they will get to know every detail about the areas where they require content optimization.
This includes scanning of alt tags in the image, keyword usage in the node titles, as well as keyword density on the content.
If you want to find out whether a given page is using meta tags, just right-click anywhere on the page . Select "View Page Source." A new tab will open in Chrome (in Firefox, it'll be a pop-up window). The part at the top, or "head" of the page, is where the meta tags would be.
Conclusion:
So these are some of the most useful modules for Drupal 8 & 9 serving you with a wide array variety of SEO activities. These are also the most useful modules for hire developers planning to optimize their Drupal site for search engines. We hope you make perfect use of them and succeed in your website's SEO game.