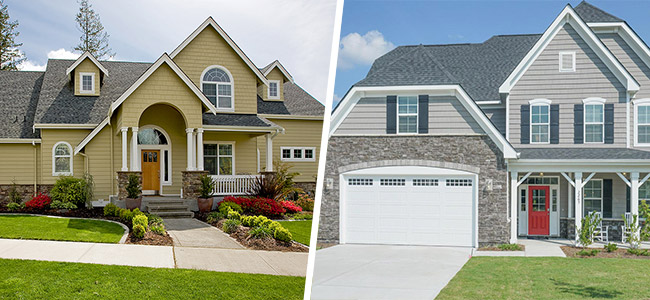 When you are ready to build your new home. You have the choice of either going with the production home builder or a custom home builder. Both types have their own pros and cons, and both are largely used in the construction industry.
Regardless of your choice, it is critical to get in touch with your custom home builders Dallas if you are looking to build up a feature-rich and appealing custom home in Dallas.
Although the ultimate goal is to have your home built with the choices you made, there is a simple difference between a production home and a custom home.
Difference Between a Custom and Production Home
The production home builders are usually tasked with creating a bunch of homes in one building compound or in an area. They use a set amount of floor plans, where all of the homes are the same and have a very limited array of personalization. This type of home offers the buyer to blend in with the community.
On the other hand, custom home builders work with clients to create a unique and individual home that is one of a kind. It is designed according to the client's personalization needs which can be very different from the production home. You are allowed to add anything you want to your home through a custom home builder.
Production Homes
Production homes are planned in advance. Usually, these homes are planned in a way where customization is not an option. All the homes will have the same number of bedrooms, bathrooms, kitchen style, and living room. Even if the buyers or residents want to do some custom changes there is not much they can do.  When people buy these homes and live in the same building or neighborhood. They blend in and make a community.
This type of production housing came into play after World War II. Historically, the new families and survivors needed affordable, quality housing, so they established production homes in the suburbs all over the United States. Since then, there have been hundreds of production home neighborhoods where housing is cheap and plenty of people can live there. Some of them are owned by the government and some are private.
In modern times, housing societies are building small, medium, and large houses in different lanes. Each category has a different design based on the land size. People can buy whatever they like and it fits well with their budget.
Pros
        Production homes offer cheap and affordable housing options
        Since there are fewer choices and no personalization option, buyers save time and effort by focusing on limited available choices
        Production homes are already built, so buying and acquiring a production house is easy
Cons
Production homes come with some disadvantages as well. Here are some of them.
        For buyers, there is no control over the finished construction. For instance, you cannot have the design you desire in your home. There is no way you could use better quality material or do changes in the design. You will have to buy it as it is. If you want to do some changes you are going to do it on your own and that would be a little difficult
        Another disadvantage of production homes is that your home will be indistinguishable from the hundreds of homes in your lane or your building. The aesthetics would be the same. The only thing you can change is your paint. This could work for working-class people. But not for those who want to live in a place that reflects their social status, dreams, and personality
        Most of the production homes are located in cities where land prices are high so living in congested areas is kind of necessary to enjoy the amenities of a big city. However, some production homes are located outside of the city vicinity and in the suburbs of big cities that have low costs
Custom Homes
Custom homes are specifically designed for a client and they hire custom builders in which an architect, interior designer, and a custom home builder are involved. These are usually high-priced contracts.  These homes can vary in size, shape, design, location, and features. But they are specifically designed and are considered luxury homes, so they are expensive.
Pros
        The biggest advantage of building a custom home is that it is according to the wishes of a client. For them, it's a job well done, and it suits their individual needs perfectly.  They have got the size, building layout, room type, finishes and materials, interior and exterior features, game rooms, patios, pools, backyard islands, and many more things like that
        By using good quality materials, finishes, and labor, it must have been costly but in the long run, it will be durable. You wouldn't have to renovate your home after a year. It will stay that way for years until you decide to change it
Cons
        Although custom homes are unique, the upfront costs are way too high for some people. It could be due to the nature of the custom home building and the time and effort involved in building it
        Custom homes are not easy to sell because if you have a different home design than the norms. You may not get a buyer for that.
Conclusion
Both production homes and custom homes are great options. They both have their pros and cons but at the end of the day, it's your decision.
You need to decide whether you want to build a custom home somewhere in the hills or you can buy a production home within a building complex.
It also depends on where you are in your life, what you aspire to do, and your lifestyle. You can think about the size, design, layout, pool, tennis court, gaming room, and many other things.
Custom homes could become your dream house where you can live at your favorite location with a lifestyle you want and around with your family. But a productive home apartment serves you well if it is enough for your needs.