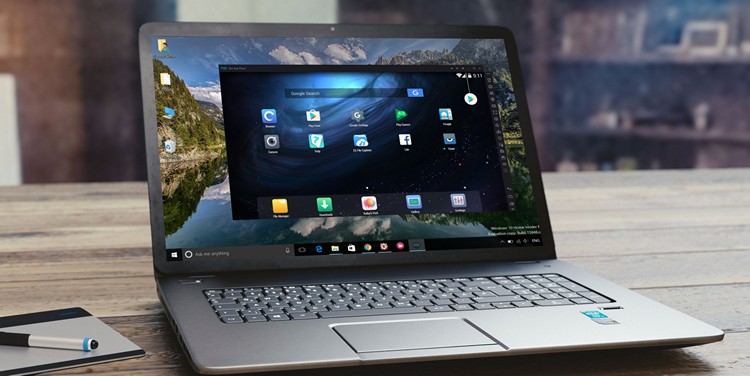 Use Andy To Emulate Android On Your Desktop/Laptop
Andy is an all-new android emulator which will bring Android OS right on your Desktop/Laptop Screen. There are so many reasons why you should use Andy to run Android OS on your Windows/MAC.
If you are thinking to ditch your iPhone and want to buy an Android, but you want to try android first?
Then here is a solution for you. This emulator is capable of running android apps on your desktop/laptop-like Viber, WhatsApp, and Subway Surfers, etc.
You can enjoy the clash of the clans on a larger screen too. 😛
Whatever be your plan, Andy is answer for them.
Andy is not like BlueStacks and You wave which merely runs Google Play Store's Android apps.
This emulator will give you a fully Android OS experience on your Windows or Mac system, and you can also sync your existing Android device with it. Use Andy To Emulate Android On Your Desktop/Laptop
If you are thinking that why I am recommending Andy instead of BlueStacks or YouWave, then below is a comparison chart between Andy, BlueStacks, and You Wave. You will get your answer there 😀
Here is how to get started with Andy:
Step One: So first you have to download Andy. There are many sites available from which you can download it, yet I will recommend you to download it from its official site to ensure that you are downloading the latest version. This program runs on both Windows and Mac, so everyone can use it. (I tested it on my system which runs on Windows 8). You can download it from Andy's Official Website.
You will have to approve a request for a Windows firewall when you will run Andy for the very first time on your desktop/laptop. This is just to provide the safety and privacy of your system.
Step Two: After a successful download, open it and your system will reboot.
After restart, you will be able to see the Android OS welcome screen, the same as you have seen in android phones and tablets. Andy currently runs on Android 4.2 which is Jelly Bean.
To begin the process you have to click on start with your mouse. If you have a touch screen monitor then you can also tap and control it via touchscreen. Katienicholl
Must Read: How To Unlock Android Screen With Gestures – Pi Locker App
Step Three: Now you will have to sign in to your Google account (if you have one), after signing in you have to complete the rest of the process — again, the same as you would do on android mobile or tablet. You will also be asked to give your Google account info for 1ClickSync, this app lets you sync your android device with Andy.
Step Four: This is the last step. At this stage, you will be able to see the Android OS home screen. You can now rotate the screen between portrait and landscape mode by clicking on the corresponding buttons at the bottom right of the Andy window.
Likewise, there is also a Full-screen button that acts as a toggle between full-screen mode and window modes.
You will also see Home, Menu, and Back Buttons which can be helpful if you encounter an app that somehow obscures those buttons within Android proper.
And that's it! Now you have successfully installed Android OS on your Windows/Mac system. You can now visit the Google Play Store, and download games, apps, e-books, and everything else.
However, Andy also offers a few other features which you might want to try.
There is an Andy app too for your android smartphones and tablets. This app allows you to control your emulator from your smartphone or tablet. This app can be helpful to you if you want to play accelerator-controlled games, or you want to enjoy a touch screen experience on a non-touchscreen.
Must Read: How To Transfer Files From Android Phone To PC Wirelessly
At the time of launching and press conference, this app was not listed on Andy's Official Website. Later on, they made it available for download via Dropbox.
You can download it by clicking HERE. This is a .APK format file, so you have to download it directly on a device that is running on Android OS. You may need to update your settings too, to allow apps from unknown sources. Use Andy To Emulate Android On Your Desktop/Laptop
Once installation completes, just run this app. So now you can connect your android phone/tablet with your computer over the same Wi-Fi network.
Another is that if you launch the 1ClickSync app which is located on the main Apps page, then you will be able to sync all apps that are already installed on your mobile device from the Google Play Store. To choose apps to sync, simply open 1ClickSync and click on the Google Play Store icon.
Conclusion
Andy is a full-featured Android emulator which is far better than Blues tacks, and You Wave. Andy is much better than blue stacks, and you wave in terms of customization and productivity and, it is much better in gaming in some cases. If you want to run the android OS on your desktop/laptop, then
I will recommend you to download Andy. It is the only android emulator which will give you the best Android OS experience.
Read More: Katienicholl