Business
Inspiring Ideas to Make the Perfect Product Packaging
Product Packaging
Nowadays, we see a wide range of packaging designs that tend to serve all sorts of needs. Product packaging is so diverse these days. It comes in every shape, size, color, texture, design, and material. The packaging of a product defines a business or brand. It is the most important and first impression that a customer receives and with it the kind of build the brand image in their minds. It is the first insight into a brand and represents an entire brand.
Importance of Excellent Packaging
We assume that the product of a particular brand is impressive, and it has the best logo; its visuals are very trendy and fabulous but what adds to it is the packaging. Perfect product packaging is what a business needs to figure out way before everything. In this world where people crave uniqueness and newness, where competition is very high, packaging comes at the top. When buying gifts for their loved ones, many people want the product packaging to be top-notch. So before buying they go into the details of this and consider it very much. People also assign their emotions to it; they keep good packaging to themselves safe and protected for weeks, months, and even years. It is like that they develop personal feelings with it. It is more personal to them.
There are tons of YouTubers and other social media users who make unboxing videos and rate the packaging of the different products and different brands, and that develops a fan base for a particular product packaging which is quite mind-blasting that people at times fall in love with the packaging and develop a fan base for that packaging than maybe the actual product. Great packaging comes with much creativity. The package design must be so captivating that the customer or user wants to keep it to themselves for a more extended period. Some plans are so well designed that people use them as showpieces in their rooms and around different corners of their house. From classic to the most stylish ones, it is clear that packaging does make a difference. This idea primarily works in the perfume industry, cosmetic industry, soaps, candles, detergents, and other home care products.
Color
Any business or brand can achieve perfect packaging with the right colors. The colors used should complement the product and enhance the product's overall look. If the product is related to women, they can go with pinkish and bright colors. It works both ways. Especially in the case of perfume bottles, soaps, and beauty products, more brilliant colors are usually more preferred because it makes the product look very much attractive that way. But again, that also depends on the personal choice and preference of the brand or business that what is their actual brand story and what they intend to bring to the market.
In the case of males, usually, the packaging of such products is kept minimalist. The colors used are primarily black, blue, silver, and grey.
Shape
The shape of the product also enhances the packaging. It has a lot to do with packaging. Shape plays a very vital role. It should work with the product; for example: in the case of perfume bottles, people usually like over-the-top shape bottles, i.e. ball, mike, heel, doll, elongated, triangle, etc. These attract them a lot. Bottles in which the product is visible also attract customers. Choose a shape that is distinctive and relatable to your brand.
Font Size
Choose a font that is not too small or too large. Choose the one that goes and works with your product logo. Put much thinking in this step and plan the font and graphics accordingly, which are also helpful and can work with many different items in a product line.
Fit The Package
Your custom box must fit with the product inside. Ensure it is durable, easy to open, and can be carried easily. In the case of high-end products, customers want that as they are also paying extra money for that.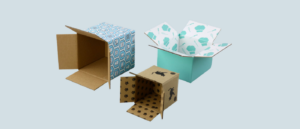 User Friendly
Companies now tend to work on their packaging to be user-friendly. It means that the package should be easy to open. Some companies also tend to add many fun elements to their packaging. The customer enjoys opening the box and has fun. At the same time, they go through the opening experience.
Environment Friendly
Many businesses and brands have worked for years on this. They understand their responsibility now and try to make the packaging eco-friendly. The package should not be oversized or too small-sized. There is no need to put extra layers of plastic or boxes. It is just an extra layer that is not required and is unnecessary.
Safety
In the case of food, there is a particular administration to ensure the safety and protection of citizens and consumers. It should remain fresh. It should stay intact when delivered to other places and during shipping. The package is designed in a way that does not affect the health or cause any damage to the health of the consumers.
Honesty
Integrity and honesty are the two most important features that a business and brand offers. That is how we see the brands build themselves in the market and win the trust of their customers. The product shown on the outside should exactly match with the product inside. There should be no exaggeration about the product on the outside. Try to meet your customers' expectations and fulfill the promises that you have made with them. This helps to build the customers' trust, and they stick to your brand for a more extended period, which is excellent for a business.
For more visit jetposting.